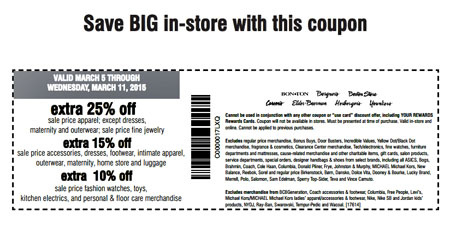 Save an extra 25% on sale price women's, men's and kids' apparel categories except dresses, maternity and outerwear; sale price fine jewelry; save an extra 15% on sale price accessories, dresses, footwear, intimate apparel, ladies' and men's outerwear, maternity, home store and luggage; save an extra 10% on sale price fashion watches, toys, kitchen electrics, and personal & floor care merchandise.
See sales associate for more details; exclusions apply.
Valid through March 11, 2015
Sign Up For Our Newsletter!